Electronic Tourniquet ET-208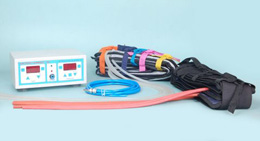 Cuff pressure range : 10 to 450 mmHg
Pressure regulation : ± 10mmMg of set point.
Online setting : Increase and decrease in pressure settings.
Timer : range from 9 hours to 59 minutes.
Internal least count : Timer 1 minute / internal 1/1000 second.
Alarm : Audible on timer equaling set value.
Memory : Pressure set in earlier session is stored and displayed when the machine is switched on again.
Pressure regulation : Maintains set pressure under leak conditions.
Backup : 3 hours battery backup (in case of full charge)
Switchover : Automatic switchover from offline to online (vise versa).
Power : 230V (AC) / 50Hz ± 10%,
Stabilizer : Inbuilt
Digital display : Digital display of set pressure, actual pressure, time elapsed & set time.
Cuffs : Different sizes of five cuffs -washable & easy fitting (pediatric, small, medium, big & large)
Dimensions : 222.25mm (I) 139.7mm (w) 101.6mm (h)
Weight : 309 Kgs