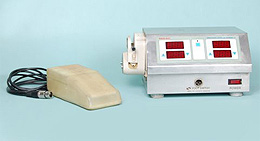 Maintains uniform joint distention and clear visualization during arthro5copy surgery by balancing high outflow demand of powered Instrumentation with accurately controlled inflow delivery making it an deal option to be used in Arthroscopy Fluid Management.
Irrigation pressure and flow rate electronically controlled. Facing displays of operating Parameter set points and actual performance data allow ready operator monitoring of unit operational status.
Digital display of flow and pressure ratings.
Pre selectable values for irrigation pressure are retained in memory while the unit is switched off.
State-of-the art technology for easy operation and high patient safety.
Autoclavable tube set
Auto cut off, of the pump when set pressure equals actual pressure.
Easy loading of tube
Filter prevents liquid media to come in contact with sensor
Touch panel system.
Machine can be also optionally controlled by a foot switch
Irrigation pressure 0-200mm Hg
Liquid flow: 0-900 ml/n
Powersupply 230V(AC) / 50Hz + 10%
Dimensions 304.8mm (I) 215.9mm (w) 114.3mm (h)
Weight 7Kgs