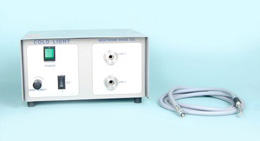 Dual light system
lnbuilt Meat filter
Manual light intensity adjustment
Colour temperature appro 3400k
bulb changer switch
Water resistance panel
In build voltage control rectifier
Inbuilt safety fuse
Double fan cooling system
fiber optic cable 4 8mm x 250cm with metal cladding with general adapter for variable scopes and light sources.
Tungsten halogen lamp type with 250k reflector.
Bottom fitted bulb (easy to change)
Quick lock in coupling system
Power supply 230v (AC) 50Hz ± 10%,
Dimensions: 298.45mm i) 241.3mm (W), 127mm (h)
Weigh 6.1 kgs.
Fibre Optic Light Cable
Cable is protected with metal cladding to prevent breakage of fibre.
Fibre optic light cable dia. 4.8 mm and length of (180cm, 200cm, 230cm & 250cm).
Fully autoclavable.
Adapters to connect the fibre optic cables with other tbrands can be made available as per your requeirment.
available adapters in any telescope, light sowce & hedlight loopes.